Blackberry Sundae donations at work in Houston after Hurricane Harvey
The Plan Labor Day and Blackberry Sundaes at Yellow Hill Farm have been a tradition for several years. The first few years we gave them away, hoping to build blackberry sales. Later, we set out a jar for donations to aid our local first responders, the Biglerville Fire and Ambulance companies. This year, with the catastrophic events of Hurricane Harvey, we saw a greater need in those who were struggling financially from the damaging flood waters of the Harvey. So the word went out by email to our pick-your-own customers, telling them we were serving blackberry sundaes on Labor Day, and if they wished to make a donation, the money would go directly to help Hurricane Harvey survivors in the Houston area who were in financial need. We made lots of blackberry sauce for the sundaes and bottled jars to sell.
Labor Day turned out to be a beautiful day. We had a big crowd of people come to Yellow Hill Farm to pick raspberries and blackberries and enjoy a blackberry sundae. It was a great day and we received a very enthusiastic response to our donation money plan. Some people put in a $20 bill, others a 10, others a 5 or 1 dollar bills. I think everyone put at least their change in the jar. 3 friends and an employee donated their time to help us on Labor day. All together, the sundae donations, revenue from the blackberry sauce, value of labor volunteered and some additional from the farm, we pulled together $1000. We are so thankful for our wonderful, generous customers and friends.

Step 2 - We sent the money to Meghan & Brian, our daughter and son-in-law who live on the northwest side of Houston. Thankfully they were spared from the flood waters. On Saturday, September 9th, they bought 20 $50 Lowe's gift cards, then they and their 2 young boys visited a nearby neighborhood that had flooded, some homes had had as much as 3 feet of water in them. These homes did not have flood insurance. Along with the gift card, they gave the residents they visited a note from us explaining how the money was donated by our wonderful customers.


---
The note with the gift card- In part the note read:
"Thankfully God has spared our daughter Meghan and her family (who live near you in Houston), from the destruction of the hurricane, but our hearts go out to those who have suffered much, like you. After talking to Meghan and Brian about how we could best help a small group of Houston residents, we decided we would buy $50 Lowes gift cards and they would identify and visit some of their nearby neighbors who are struggling financially from Harvey. We know $50 won't go far, but we hope that it is an encouragement to know many care about your struggle to rebuild your lives.
Thank you for accepting this gift. May God help you through this difficult time. "
---
Meet the folks touched by your gift.
Your gifts reached the grateful hearts of 20 households in one of many flooded neighborhoods
Please be sure to read the thank you notes at the bottom of the page these folks wrote.
Mell and her husband had 2-3 feet of standing water in their home.

Yellow Hill Farm's Labor Day donations this year went to help victims of flooding from Hurricane Harvey. The Farm purchased gift cards to Lowe's to help people in rebuild their homes.


The gift cards were given to people in Northwest Houston. This street was badly flooded and residents had to evacuate during Harvey. Those who didn't leave soon enough by car were rescued by airboat. We talked with one resident who has lived there 33 years, and had never been flooded until now.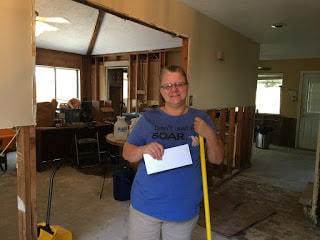 The water got so high at Ginny's house
that it was pouring in the windows.


---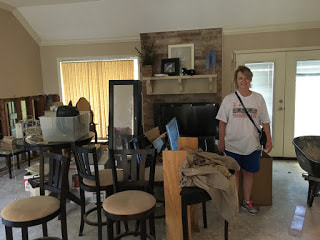 Lisa had a one-story house, so she had no way to move her belongings high enough to save them. This is a photo of her only belongings that were salvageable after the flood. She lost everything else. Lisa just got out of the hospital and is trying to rebuild her home while recovering from surgery. When she received her gift, she couldn't stop crying.


---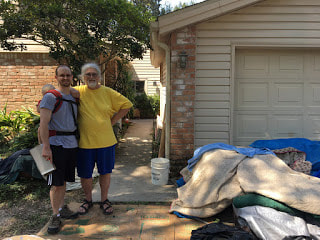 Gary's house is gutted and it will take a lot of work to rebuild.
He was very appreciative of the gift card.

---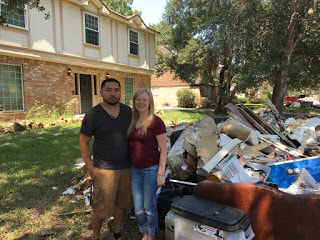 Jose and his wife were lucky to have a two-story home,
so they were able to save many of their belongings by
carrying them upstairs. The first floor of their house was
completely ruined by several feet of water.

---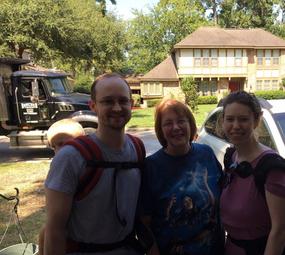 Pat was so touched by a gift sent to help her from
people far away she had never met that she cried.




---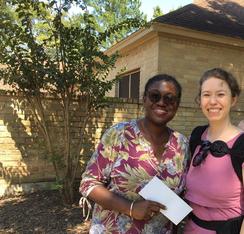 Tiffany was thrilled by the gift from Yellow Hill Farm
to help her fix her home.

---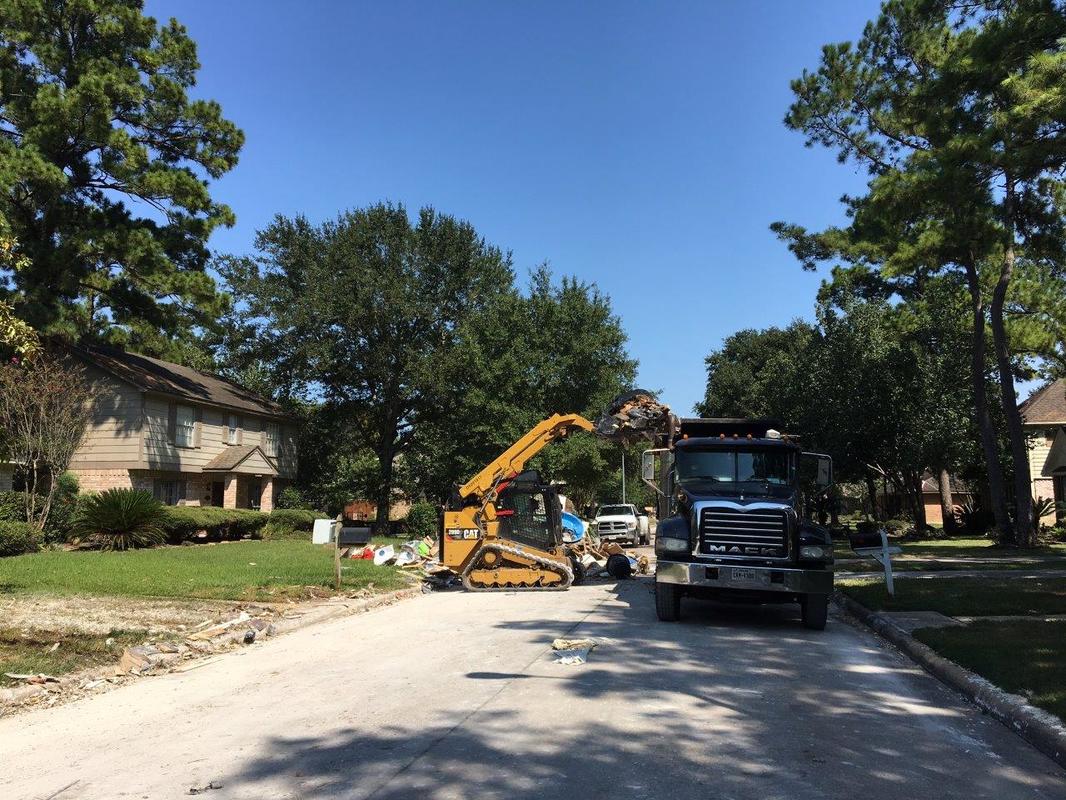 Cleaning up a week and a half after Harvey involves heavy equipment. The city has brought in dump trucks to haul away the ruined things, one pile at time. They are using skid steers to load the dump trucks.

---
The following are notes written by the folks that received the gift cards